Geekvape
Zeus Sub
Ohm Tank is the new version of the Zeus series. This new atomizer continues the structural design of the Zeus RTA and Zeus X RTA.
VOOPOO
SPECIFICATION
Capacity:5.5ml
Material:Zinc Alloy+PCTG
Filling Type:Bottom Filling
Resistance:0.15ohm (TPP DM1); 0.2ohm (TPP DM2)
Drip Tip:810 Drip Tip
Thread:510
Colors:Black, Silver, Gunmetal
Parameters
Size: 63×32mm Capacity: Standard 4.5ml&TPD 2ml Coils: PnP-VM1 0.3ohm/ PnP-VM6 0.15ohm Material of pod: PCTG
It comes with
1×PnP Pod Tank
1×PnP-VM1
1×PnP-VM6
1×User Manual
Thread: 510 Material: Stainless Steel
Features and Specs:
Compatible with: 10440, 14500, 14650, 16340, 16650, 17650, 17670, 18350, 18490, 18500, 18650, 20700, 26500, 26650
Portable Design with Quality Piano Strings
Battery Life LED Indicator Light
Dual Slot 5V/1A Micro USB Charger
AC Input Power: AC 100~240V 50/60Hz
DC Output Power: DC 5V 1A
DC Input Power: DC 5V 1A
1A CC Current: 1000mA (+/-10%)
Auto Cut-Off Voltage: 4.20 (+/-0.05V)
CV Cut-Off Current: <100mA
Standby Current: <20mA
Activation Current: 50mA~100mA
Auto Recharge Voltage: 4.10 (+/-0.10V)
Operation Temperature: 0C ~ 40C
Storage Temperature: -40C ~ 70C
Features and Specs:
Fast Charge: Select Between 1.0A and 2.0A
Auto-Stop When fully charged
Auto Recharge: Voltage Lower than 4.05V
Over Discharge Protection
Over Voltage Protection
Short-Circuit Protection
Reverse Polarity Protection
Independent Battery Slot Monitors
Piano Wire Springs
Low Resistance Steel Cathodes
Hard Chromium Plating
Precise Charging Voltage
15,000+ Times Spring Testing Quality Warranty
Compatible with: 10400, 14430, 14500, 14650, 16340, 16500, 17335, 17650, 17670, 18500, 18650, 20700, 22650, 26500 and 26650
Superior craftsmanship is evidenced by springs made of piano wire; steel cathode with low resistance and hard chromium plating to achieve a more precise charging voltage; and 15,000+ spring testing for quality assurance. Six protection levels : 1. Short Circuit protection 2. Automatic over-charging 3. Automatic over-discharging 4. Reverse polarity 5. OV activation recovery function 6.  Hardware and software double protection Features: 1. Fast charging mode: 1.0A (4.2V 2pcs x 1.0A) 2. Install a 3.6V or 3.7V lithium battery in another size 3. Reverse polarity protection 4. Activation function 5. Automatic detection function charging 6. Overcharge protection 7. Short circuit protection
The Efest Lush Q4 Charger is a smart 4 slot battery charger from the LED. It also includes the following safety features–over-discharge, over-voltage, short circuit and reverse polarity protection–with independent battery slot monitors and three charging modes: 2.0A, 1.0A, 0.5A. Compatible with any lithium 3.6V/3.7V battery. Batteries can be easily inserted and removed. Q4 chargers also feature auto-stop feature once batteries are fully charged.
Features:
Three charging modes: 2.0A 1.0A 0.5A
Auto-stop when fully charged & auto-recharge when voltage lower then 4.05V
4 kinds of protection like over-discharging, over-voltage, short-circuit and reverse polarity protection
The batteries at over 0.6V can be activated by Q4 charger
Battery slot monitors independently
Compatible with 3.6V/3.7V LiMn/Li-ion batteries (10440,14430,14500,14650,16340,16500,17335,17650,17670,18500,18650,20700,22650,26500,26650)
100% Organic Japanese Cotton
5 Feet Usable Cotton
Proper Cotton Amount To Fit 3mm ID Coil
Great Absorption Capability
Cotton Dispenser Design
Metal Cotton Eyelet
Cotton Wrapped Within Box
FreeMaX GEMM Disposable Tank Features:
25mm Diameter
5mL Capacity
4mL Capacity
Food-Grade PCTG Plastic Construction
Top Fill System - Silicone Stoppered
FreeMaX GEMM Integrated Coil Series
0.15ohm G1 Mesh Coil - rated 40-80W
0.15ohm G3 Triple Mesh Coil - rated 50-90W
Dual Slotted Bottom Airflow Control Ring
Organic Tea Fiber Cotton Wicking Medium
510 Connection
Available in Clear, Blue and Silver
Comes in a pack of two (2).
 
DRIP TANK - 3-PACK Specification:
Size: 46x24mm
TPD Capacity: 2ml
Non-TPD Capacity: 3.5ml
Resistance 0.15Ω
Recommended Wattage: 40-50 Watts
Best performance: 50 Watts
THE DRIP TANK - 3-PACK available to order Online from VAPEUAE1 with a unique Delivery service in UAE, Abu Dhabi, Dubai, Al Ain, Ras Al Khaimah, Ajman, Sharjah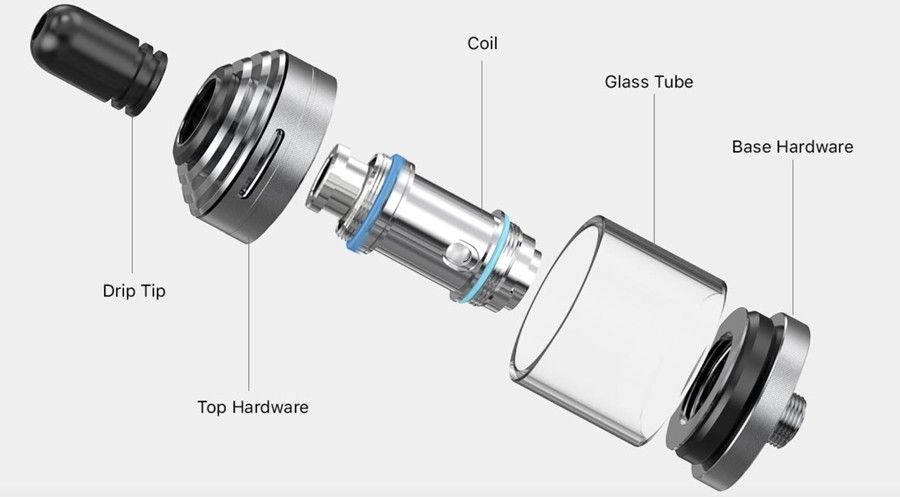 510 drip tip
Very convenient top-filling system
2 ml capacity
Adjustable top airflow
Coil parameters:
Nautilus XS mesh coil 0.7Ω (18-22W)
Nautilus X coil 1.8Ω (12-16W)
Dimensions (including drip tip): ‑22 x 48 mm
Size

: 18.20mm x 65.05mm

NominalVoltage   : 3.70V

Nominal Capacity  : 3500mAh

Charging Metod    : CC/CV 4.20V

Discharge Voltage : 2.50V (Average Cut Off)

Charging Current CC : 1250mA

Rapid Charging Current : 3500mA

Continuous Discharge Current : 15A

Max. Short Peak Discharge CC : 35A

Weight      : 60gr.max

Colour : Rainbow

Version : Flat Top